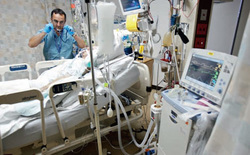 People always push off setting up an estate plan, either because they do not want to face their own mortality, they feel they are too young or too poor to need one, or they just have not gotten around to it. However, there is an affordable plan for everyone and the longer you wait the more you put yourself and your family at risk. Below are just five reasons why everyone should have an estate plan, regardless of age or financial situation:

1. In case you suffer an unforeseen accident or become incapacitated:

Estate plans are not just about wills, death and wealth, they can also protect you in cases of accidents and/or sudden medical emergencies. One is much more likely to survive an accident or illness than they are to die from it. If you do become incapacitated, important decisions about your medical care, finances, paying bills, making deposits, and/or caring for children need to be timely made. Not only should you appoint someone you trust to make these important decisions, you should appoint one or two backups in case your original appointee is unable to act. Without appointing a Health Care Proxy Agent or an attorney-in-fact under a Durable Power of Attorney, your family may not have the authority to make immediate decisions. A costly and sometimes lengthy legal proceeding to appoint a Guardian and/or Conservator to act on your behalf is required to obtain this authority. Both a power of attorney and a health care proxy are relatively inexpensive documents and could avoid that costly procedure entirely.

2. Protecting your children:

One of the most difficult decisions to make is who to take care of your children when you cannot. This decision is not only for single parents but married parents should also prepare in case both become victims of the same accident or illness. Although difficult to make, not naming a guardian takes the decision completely out of your hands. The court does not know your family dynamic and relationship as well as you do and might not choose a suitable family member.

3. Avoiding family conflict & ambiguity in your wishes:

You might know your wishes but members of your family may not, or they may not follow them. Not only can ambiguity prevent your actual wishes from being carried out, but family fights may develop over what they believe you wanted.

I am sure many of you reading this can relate to some drama between family members. Family may distrust one's spouse or significant other in ascertaining your wishes. There may be different religious beliefs within the family. Your parents may be divorced and each side of your family distrusts the other. The possibilities are endless.

These hostilities only become magnified when important issues such as your medical care, your children, your finances, your business, or what to do with your remains becomes involved. These ambiguities could unnecessarily tear your family further apart, create sides, and force your loved ones into intense and expensive legal battles with each other. By making your wishes clear, it helps to not only preserve your wishes, but avoid family turmoil.

4. Allowing your family to focus on what is important during a time of crisis:

If you suffer a significant accident or die unexpectedly, the stress and anguish on your family could be devastating. It is a lot better for them if you make your wishes clear now, rather than force your family to handle it immediately after something happens to you. If you are sick, your family wants to be by your bedside. If you pass, your family wants to grieve. During this time of crisis, the last thing they want to do is to repeatedly go to court and figure out your assets and estate.

5. Peace of mind:

At some point or another, whether it is this year or seventy years from now, you will either die or possibly become incapacitated. Depending on your financial situation, you can afford at least some protection. Whether it is merely setting up a health care proxy and power of attorney to developing a more complex plan with multiple trusts. It is all up to your own discretion. If you circumstances change you can always update your estate plan. After signing all the documents, people never regret spending the money and relish the immediate sense of relief. Acting now allows you to live your life with some extra peace of mind.