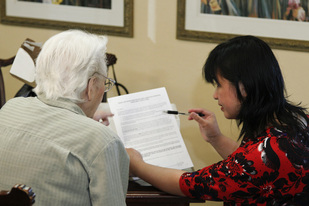 The following are helpful information you should know before filing a petition for Guardianship and what preventative measures you should take before anything happens to you or a loved one:
1. Determine whether the allegedly disabled/incapacitated person has health care proxy and/or power of attorney:
By already having these in place, you can know who the incapacitated person wanted to make their decisions and helps avoid the lengthy litigation process involved in obtaining a guardianship or conservatorship. If you cannot find these documents, you may want to contact the individual's estate planning attorney and see if s/he has both documents on file.
2. Determine what you are seeking:
a. Conservatorship and/or Guardianship: Conservators manage the incapacitated person's assets while a Guardian makes medical decisions and manages their custody and physical well-being. Under the new MUPC these are separate responsibilities and you must file additional documents with the Court if you are also seeking to establish both.

b. A plenary (full) or limited guardianship: Limited guardianships are generally preferred by the Court but might not be feasible in your case. If you are seeking a limited guardianship be prepared to explain what powers you are seeking. If you are seeking a plenary guardianship be prepared to explain why a limited one is not appropriate.

c. To administer antipsychotic medication: If so, these types of guardianships are typically called Rogers Guardianships and have additional requirements such as annual reviews, Court approval of any proposed treatment plans, and the appointment of independent counsel for the incapacitated person.

3. Obtain a Medical Certificate or Clinical Team Report from Medical Professionals:
Besides certain limited circumstances, the Court will require you to either get a Medical Certificate or Clinical Team Report before making a determination. Here is an explanation of each and when you would need them:
a.
Medical Certificate
:
Unless a Clinical Team Report is provided, it must be completed in order to obtain a guardianship over another individual.
Must be completed by a qualified medical professional (currently defined as a registered physician specializing in the area of disability, a licensed psychologist, a certified psychiatric nurse clinical specialist, or a nurse practitioner with experience in the area of disability).
The Petition must be filed within 30 days of the date of the Medical Certificate.

b.
Clinical Team Report
:
More complicated than a Medical Certificate and required in cases involving an intellectually disabled person.
Must be completed by THREE different medical professionals: (1) a licensed psychologist, (2) a registered nurse, and (3) a licensed social worker. All of which must have examined the patient within 180 days of when the petition is filed.
This document is valid for up to 6 months.

4. Obtain contact information of the incapacitated person's immediate relatives:
The incapacitated person and all interested persons must be provided notice. If you are unaware of how to contact an interested person, then you must publish a notice in the newspaper chosen by the Court.
5. Information about the Respondent's personally assets, real estate, and bank accounts:
Every guardian must sign and submit a bond for the Court's approval. Within the Bond you must contain an estimate of the Respondent's real estate and personal estate. Be advised that if the Bond is approved, the Court may require you to pay sureties on it.
PREEMPTIVE STEPS:
As mentioned in (1), most of this process can be avoided by executing a Health Care Proxy and a Power of Attorney before your capacity ever comes into question (both combined can cost as little as $200). Therefore it is advisable to not only have one created for yourself but to encourage your spouse, parents, siblings, non-minor children, and anyone else that might rely on you for care to execute their own Health Care Proxies and Powers of Attorney.
To learn more about Conservatorships and Guardianships or on how to update your estate plan to include a Health Rare Proxy and Power of Attorney, contact the Law Office of Matthew M. Cummings at 781-828-4711 or mmc@matthewcummingslaw.com