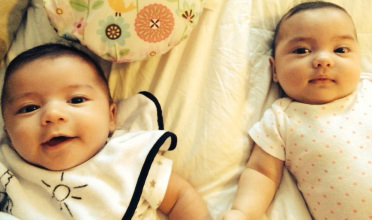 All parents should have a system in place in case anything happens to you and/or your spouse. Considering all the times you and your spouse travel in a car together, you and your spouse could both be victims of the same accident. Regardless of being married or single, it is important to have a plan set in motion for who cares for your children's financial and physical well-being.
This decision can be difficult but it is essential to have your choice be clear and unambiguous now before a future crisis occurs. Although this list is certainly not all-inclusive, here are some tips on handling the selection process and factors you should consider when choosing the person or couple to be responsible for your child's care in case anything happens:
Make a list of all potential guardians: Sit down and create a list of the logical people you might choose. Consider each person individually and ask yourself - would you want him or her to raise your children? If so, how do they compare to the others on your list.
Make sure to choose Alternates: You should appoint a successor guardian in case something happens to your first choice. Your original might be unable or unwilling to serve in the future and you should prepare for that possibility.
Consider People Outside Your Family: You might feel an obligation to choose someone within your family but you might have a close friend or know another couple that makes more sense. When it comes to the care of your children, you cannot worry about upsetting certain family members.
If unmarried, is the other parent a wise choice?: If you are not married to the other parent, do you want the other parent to care for your children if something happens? Unless that parent abandoned the child or is clearly unfit (which can be difficult to prove), the court will most likely grant custody to the other parent. You need to make your desires are clear and in writing before something happens to you.
Their Familiarity with your Child(ren): Do your children already have a positive relationship with the potential guardian(s)? Is there already an established bond? Do the potential guardian(s) feel comfortable around your children and vice versa? If so, this might make a transition easier.
Their Child Rearing Philosophies: If the potential guardians have already raised children or are raising children, have you agreed with the way they raised their children? Do the potential guardian(s) share your preferences regarding education, diet, discipline, chores, bed-time, television viewing, video games, etc.?
Their Beliefs: Do the potential guardian(s) have the same religious or moral beliefs as you? If not, would you want them to pass their beliefs onto your children?
Your Child's Preferences: If old enough, your children might already know whom they would want to take care of them if something happened to you. If done tactfully and without worrying them, you might be able to gauge their preferences.
Will They Maintain Family Relationships?: Will the potential guardian make an active effort to ensure that your children maintain a strong relationship with your family and/or your spouse's family?
Their Lifestyle: A potential guardian might be loving and very financially stable, but do they have a lifestyle that makes sense for raising children? Is he or she career driven and works long hours? Is the guardian still young and has a vibrant social life? Someone might one day be a great parent, but at this moment they might not be ready to take on this responsibility.
Where They Live: Living with someone else can be a big adjustment for your children and choosing someone in the right location might make it easier. If you have older children, maybe you should consider picking someone who lives in the same school district? On the other hand, maybe most of your family lives a distance away in the same region. If so, you might want to consider someone in that region in order for your children to have a strong family network.
Their Age, Mental, and Physical Health: Your parents or an older relative might seem like the best choice, but what will their physical and mental health be like by the time your child turns 18. This might not be an issue if your child is a teenager but will the guardian have the physical and mental energy to raise a young child? For any potential guardian, you should always consider their age and what their health situation might turn into by the time your child turns 18.
If they already have children, do those children get along with your own?: Are both your children already close? Will the potential guardian's children accept your child openly into their family?
If they have children, will the potential guardian treat your child differently?: Someone with experience raising children might be a great choice, but will they love your children as much as their own or treat them differently?
Their Past History: Does the potential guardian have a criminal record or a history of drug or alcohol abuse? This person might be clean, sober, and have their life together today, but do you trust them to remain "clean" throughout your child's childhood. Additionally, a judge might look at the potential guardian's history when deciding on the appointment and could easily become an issue if someone decides to contest it.
Consider Different Permanent and Temporary Guardians: The person you prefer to raise your child if you pass away does not need to be their guardian if you are alive but temporarily incapacitated. For example, if you get in a car accident and in critical but stable condition and your preferred guardian lives far away, you can recommend someone that lives nearby to act as your child's guardian until you recover. This can prevent your child from having to move far away or attending a new school while you recuperate. If you have no friends and family nearby, you might want to consider the parents of one of your children's classmates.
Should You Split Responsibilities?: The individuals you select to care for your child's physical well-being do not have to be the person that manages the money or assets you provide to care for your child. You can choose to have the guardian share these responsibilities or give them outright to others. Although this might complicate the guardian's ability to get funds for your child's care, in certain situations it might be beneficial. By including individuals you trust to make intelligent financial and investment decisions with these funds, they may last longer or create a bigger nest egg for your child when he or she gets older.
Consider Different Guardians for Different Children: Most people dislike the idea of splitting up their children but sometimes it makes sense. For example, if you have multiple children, it might be too much of a burden for one person to handle on their own. If one child is in high school, he or she might not want leave his or her friends before graduating to live with a relative in another region. Each situation is different and you should at least consider the positive and negative effects of separating them.
Do NOT Eliminate Someone Based on Their Wealth/Income: You should not eliminate the best person to provide your child with a loving home because they are not affluent. Instead, consider taking out life insurance policy and developing a trust with your children as beneficiaries. This trust can go into effect at your passing and will allow the trustees to remove funds for your child's care.
Trust your instincts: Similar to parents, no guardian will be perfect. Think carefully about your options but choose whomever you feel deep down would best raise your children. That being said, if you are married, you both need to be on the same page. It is necessary to provide clarity and help prevent the guardianship from being contested. If you cannot come to an agreement on who should be the guardian, it might be advisable to sit down with your estate planning attorney and discuss your options and concerns.
Ask: Make sure you talk to whom you want to be a potential guardian first. You do not want to surprise them with this sudden thrust of responsibility and they might have job/personal/financial issues or already overburdened with their own children. By asking the answer may surprise you and allow you to have someone that is prepared to be in place for your child.
To set up a free informational meeting to discuss your estate planning and guardianship options. Contact the Law Office of Matthew M. Cummings at 781-828-4711 or mmc@matthewcummingslaw.com.