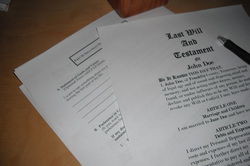 All estate plans are not identical. For example, some individuals should strongly consider drafting certain kinds of Trusts to protect their real estate and/or other income streams while it might not be practical for others. Nevertheless, everyone, regardless of age or financial situation, should have these documents drafted by a licensed attorney in case of an emergency.

Will: The Will is easily the most well known document in an estate plan. The Will is the legal document controlling the disposition of your property that is owned outright and not jointly with another person at the time of your death. Unlike a Trust, the property in your Will goes through probate.

Guardianship/Family Trust (if you have children): Guardianship or Family Trust language can be put within a Will or as a separate document. This Trust is advisable in situations where you want to provide for the care of your child or another minor upon your death. Besides including language describing your wishes on who will care for your children, you may appoint Trustee(s) that (1) have the discretion to invest the funds and/or use the child's inheritance for the child's well being and education; and (2) disburse the child's inheritance only when they reach a certain age of maturity. This way you can ensure their inheritance has a useful and meaningful impact on their lives and they are cared for by the friend and relative you (not the Court) deems best fit.

Health Care Proxy and Power of Attorney: Both documents only become effective once you are declared incapacitated by your doctor and cease once you regain capacity (or can by drafted to give your health care proxy or power of attorney authority even before a doctor declares you incapacitated). The Heath Care Proxy gives an individual the authority to review your medical records and make important medical decisions on your behalf as well as express your desires during this time. The Power of Attorney, on the other hand, gives someone the authority to act on your behalf in necessary financial, business, and legal matters while you are incapacitated (it can also express your wishes for who to care for your children during this time of crisis).Not only do these documents allow important decisions to be made when necessary but you can also limit the scope of that authority. Additionally, without these documents, relatives typically have to file costly and complicated guardianship and conservatorship actions with your local probate court that may take months to resolve or give authority to someone you would not want to make these decisions for you.

Living Will/Declaration of Intent: This notarized and witnessed document clearly expresses your wishes regarding life prolonging medical treatments. Although this document is not binding in a Massachusetts court, it carries weight as well as lets your family, friends and doctors know your precise wishes during this time. This can help to prevent family conflict, guilt, unnecessary litigation, and turmoil.


To learn more about these documents and to discover what other estate planning documents you might need, contact the Law Office of Matthew M. Cummings at 781-828-4711 for a free estate plan consultation.