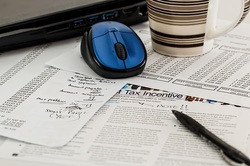 Determining what form of business entity is best suited for business, you must consider a variety of factors including, what your business does, the amount of shareholders, your annual revenue, and potential risks of liability. Here is a list of the common types of business entities with a brief description.
Sole Proprietorships:
The sole proprietor keeps all profits and is liable for all losses. Easiest entity to form but provides very little personal liability protection.
Partnerships:
Partnerships are formed by two or more partners. Within a general partnership all partners share obligations and profits of the business. Rather than limit liability, each partner is liable for their actions AND the wrongful actions of the other partner(s). If formed, they are usually Limited Liability Partnerships (LLPs), which limits, to a degree, the amount of liability you have for your partners' actions. Nevertheless, this form of entity is seldom chosen anymore.
Corporations:
Corporations enjoy limited liability and can be formed either for profit (
G.L. c. 156A
or
156D
) or for non-profit purposes (
G.L. c. 180
). For tax purposes, a corporation may be labeled either an S-Corp or a C-Corp. If eligible, it is highly preferable to elect for S-Corp status. Within C-Corps, the corporation and stockholders are separately taxed on income, meaning stockholders may face double taxation. Therefore, you should speak with a good accountant to determine how and whether you can limit or even eliminate the income tax on a C-Corp.
Limited Liability Companies (LLCs):
Formed under
M.G.L. c. 156C
, LLCs can be created by a single individual or multiple owners. LLCs provide its participants with a lot liability protection and the state also allows a lot of flexibility within its operating agreement. Despite its benefits, they can be costly (minimum of $500.00 per year Annual Report charge, for instance) and might not be necessary for everyone.
If you would like to learn more about setting up your own corporate documents, contact the Law Office of Matthew M. Cummings at 781-828-4711 or mmc@matthewcummingslaw.com